Viparita Karani is often called "Legs Up the Wall Pose" and is one of the most nourishing, grounding and calming postures in Yoga.
viparita = turned around, reversed, inverted
karani = doing, making, action
Basically, Legs Up the Wall pose is exactly as it sounds! You lie on your back with your sit-bones as close to the wall as is comfortable for you. From there, you extend your legs up the wall, so that the backs of your legs are resting fully against it. Experiment with the position, move closer to wall or farther from it until you find the placement that works for you.
For more support and a more restorative variation of Viparita Karani, you may need the support of a blanket or a bolster to elevate your hips.
This posture has many benefits, for example:
Alleviates headaches and migraines
Boosts energy
Relieves lower-back pain
Helps with insomnia
Counteracts depression
Calms the mind
Relieves tired or cramped legs and feet
and many more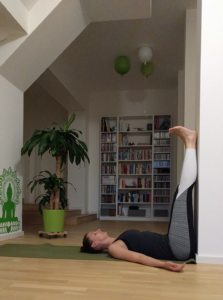 This soothing, restorative posture calms the nervous system, eases muscle fatigue, and helps restore healthy, restful breathing.
But its true greatness is that it teaches us experientially that positive results can come from doing less, not more. It basically gives you all the benefits of inversion, without the effort.
This pose is intended to be a deeply relaxing pose which is practiced at least 10 – 15 minutes. Your body feels supported and loved in Viparita Karani which can help you quiet the mind, focusing on breath and perhaps finding a soft meditation.
Viparita Karani is usually sequenced near the end of a practice just prior to Savasana or sitting pranayama.
If time is short, even hanging out there for a few minutes is suffice.