Keeping up a vegan diet and lifestyle is easy when you're at home with your own kitchen, your favorite food spots and your vegan supermarket around the corner. When you travel, things can be more difficult but thanks to the rising global popularity of plant-based foods, it's never been easier to avoid animal products when traveling.
Of course, the degree of ease ranges depending on the destination, and there are still many parts of the world where local diets consist fundamentally of meat, eggs and dairy.
Therefore, I was surprised when I traveled to Istanbul, Turkey a while ago, to find many vegan options and vegan restaurants. Especially because they were not the typical type of fancy establishment that boast the same general vegan burger and smoothie bowls.
So here's a small list of places you might want to check out on your next trip to Istanbul.
Vegan restaurants in Istanbul
Mahatma Cafe & Restoran Istanbul
This colorful vegan café has already a few years long tradition in the quarter of Kadikoy (on Istanbul's Asian side)and was my favorite restaurant on my Istanbul trip. They serve traditional Turkish, Mediterranean/Middle Eastern food starting from lentil soup (I had it and it was soooo good), baked beans, pilaf, falafel, stews.
Until recently it could be found here:
Rasimpaşa, Prof.Dr, Macit Erbudak Sk. No:50/A, 34716 Kadıköy, İstanbul
However, according to Happy Cow the cafe has been relocated this year.
Community Kitchen
This is probably the most known vegan restaurant in Istanbul.
The Community Kitchen offers vegan food with dishes like iskender and balls, Bosnian cevapi kofte, seitan stuffed grape leaves pockets with lemon sauce, vegan burger, vegan lasagna and vegan baklava, seasonal menu with Turkish rice, stuffed peppers and eggplant, olive oil cold plates, plus smoothies and cookies.
And: When you are into cats, you will love this place.
You can find it here:
Şahkulu, Kumbaracı Ykş. 35A, 34421 Beyoğlu, İstanbul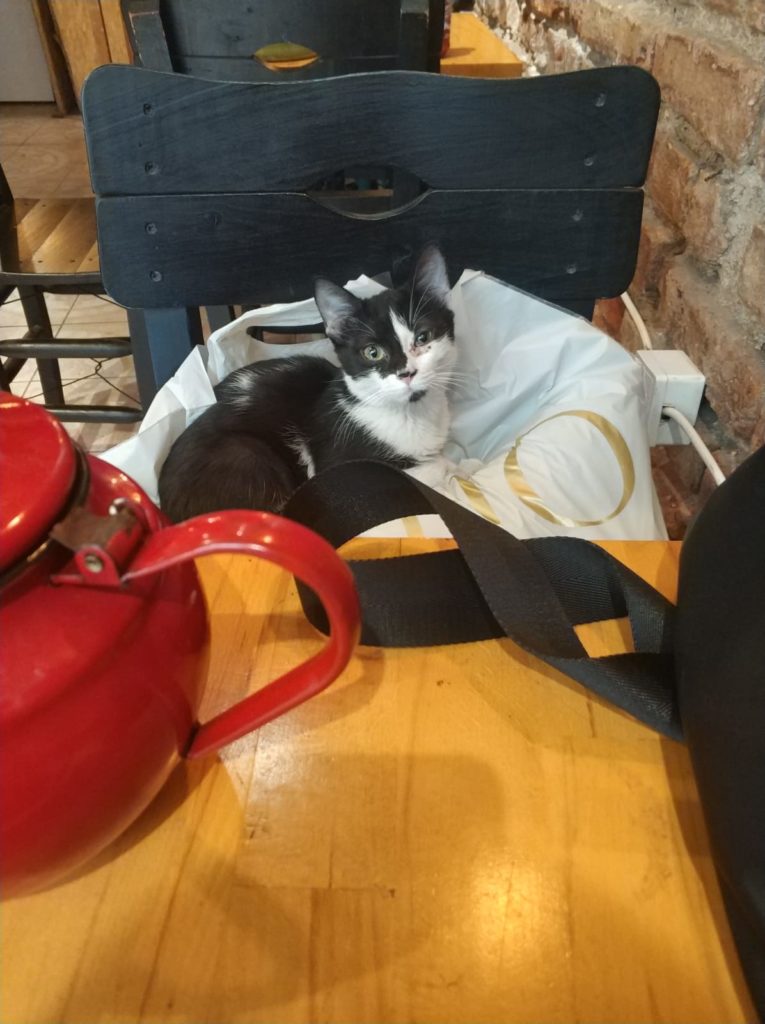 Tahin Restoran
The Tahin restaurants belong to a chain and might not be super cozy but offer really good Lebanese food with many vegan options. Lentil soup, Tabbouleh, Falafel Salad, Hummus in many variations… do I need to say more?
There are several restaurants around Istanbul, the one I visited is in Karaköy:
Mumhane Caddesi, No: 41, Karaköy, İstanbul
Vegan food options in Istanbul
Even if you don't find (or don't want to find) a vegan restaurant, there are many options that happen to be vegan anyway. A specialty for example are Çiğ Köfte. They used to be made of raw meat until this practice was banned in 2009. Today Çiğ Köfte is made from bulgar, spices and lemon juice.
Simit is a circular bread that's typically encrusted with sesame seeds. It's the ultimate snack and although it may appear quite plain, it's incredibly delicious and can be found literally everywhere.
Dolma is a mix of stuffed vegetable dishes which usually are all vegan. For example, stuffed wine leaves or stuffed aubergines.