Recently I discovered the so called Mason Jar Salads. Yes, I know I'm late. Some people already knew in 2014 that Mason Jar Salad is the new black. After spotting the first picture of a salad in the glass, I suddenly saw Mason Jar Salads everywhere! Instagram, Pinterest, Buzzfeed, Facebook… it seemed like everyone has been running around with a glass full of delicious, fresh food their handbags except me! Well, as we say in Germany, "Better late than never"… And here it is, my first DIY salad:
It's so simple and yet delicious and healthy (well, that depends on your choice of products you put into your glass, of course). The ingredients for this recipe are carrots, chickpeas, pomegranate, bulgur, red pepper and spinach. For the dressing on the bottom I took freshly squeezed lemon juice, olive oil, balsamic vinegar, honey, salt, pepper and other mixed spices.
So here's the secret when it comes to a perfect Mason Jar Salad: It's all in the order. There's one simple rule:
Wet on the bottom, dry on the top.
That means:
The dressing goes in first. That's the most important thing. With the dressing on the bottom your salad ingredients don't get soggy and stay dressing-free until you toss the salad together in the bowl or on your plate.
Then go with the heavier and non-absorbent ingredients like carrots, red peppers (I know I did it wrong in my example above…), etc.
Work your way up through the "lighter" ingredients like chickpeas, grain, nuts, raisins.
Leafy greens go in last, so when you turn the Mason Jar over, the greens will make the salad bed.
What you put into the glass is really up to your creativity and gusto. I like to add some grains like bulgur, couscous or millet to feel saturated just right after lunch.
The best thing about this healthy lunch alternative? It's easily prepared and doesn't take long. I usually prepare the glass in the evening, store it in the fridge, take it to work the next day where I put it in the fridge again and when I open it on my lunch break everything is still fresh and crisp. Just perfect.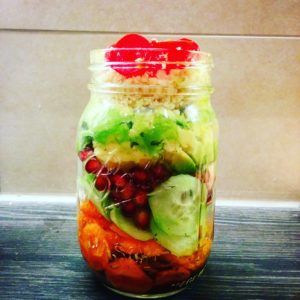 This really saves my live. When I started my new job in March, I was devastated about the lunch alternatives around my office.
Besides the expensive (and not so good) restaurant downstairs, there are only canteens or university cafeterias around. Usually, they offer at least one vegetarian dish per day (don't even ask for vegan), but pasta with tomato sauce full of flavor enhancers is neither delicious nor healthy. That's why I love my Mason Jars ;-)
Well, everything happens for a reason. Even if it's just a picture of a simple layered salad in a glass…
PS: If you have any recipe ideas, feel free to share! I'm always open for new ideas and ispiration!